There's always something fun happening at the Museum of the Waxhaws!
Upcoming Events
Author's Day at the Museum on Feb. 23, 2019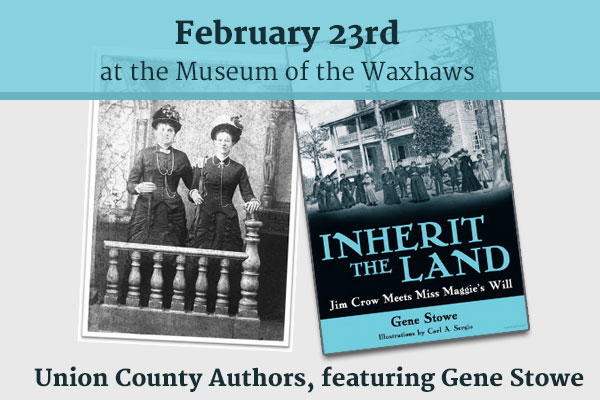 The Museum of the Waxhaws will host an author's forum on February 23, 2019, from 10 am until 3 pm at the Museum of the Waxhaws. Eleven North Carolina and Union County authors will be present to discuss and sell their books.
This event will feature, among other local writers, Mr. Gene Stowe. Stowe grew up in Monroe, North Carolina, and was a reporter for the Charlotte Observer for twelve years. He will speak about his book Inherit the Land, an uplifting story about racial relations in Union County in 1920. Described by critics as 'an evocative portrait of an entire generation's sins', Stowe's Inherit the Land details a historic legal fight in which an all-white jury awarded African Americans a North Carolina estate.
Learn more about Gene Stowe at http://genestowe.blogspot.com/.
Museum admission applies| Adults $5.00 Seniors $4.00
Andrew Jackson's Birthday Celebration, March 17
Tavern Night, June 22, 2019
Pirate Day/Party with the Pirates, August 24, 2019
Haunted Trail, October 26, 2019
Pearl Harbor Day, December 7, 2019
Tea with Mrs. Claus – December 14, 2019 – more details to come.