The Museum of the Waxhaws is Union County's Cultural and History Learning Center
The Museum showcases and demonstrates history and culture to visitors in the context of indoor and outdoor exhibits, artistic performances, historical reenactments, and group tours. The basis of our mission is to teach residents of Union County about our regional history.
Our mission is to provide an authentic and accurate depiction of local history and to continue building the story as history is made for generations to come!
Upcoming Events
November 17, 2018, 1 p.m. Presentation of Abraham Lincoln by Arthur Lightbody and Mildred Childe Lee, Robert E. Lee's daughter, by Nora Brooks.
President Lincoln will speak on the nation divided and cite historical events leading up to the Gettysburg Address.
Mildred Childe Lee will tell her life stories and provide the insight she gained on the life of her father, Robert E. Lee.
Hours of Operation:
Friday: 10 a.m. – 5 p.m.
Saturday: 10 a.m. – 5 p.m.
Sunday: 2 p.m. – 5 p.m.
Admission:
Adults: $5.00
Children 6-12: $2.00
Seniors: $4.00
Children 5 and under: free
Visiting Guidelines:
Visitors must be accompanied by a tour guide to see the interior of the buildings.
The museum grounds are not part of the public parks system. Paying admission is required in order to walk around the grounds unless as allowed during special events.
Professional/Commercial Photography is prohibited.
For safety reasons, the museum grounds are closed to the public when the museum is closed.  Recreational walking, hiking, and running, etc., are NOT allowed on the grounds.
Pets are not allowed on the grounds.
Support Our Cause
The Museum of the Waxhaws and Andrew Jackson Memorial are administered by the Andrew Jackson Historical Foundation, Inc., a non-profit organization dedicated to maintaining a repository for the collection of artifacts and other resource materials that focus on the history of the Waxhaw region and Andrew Jackson.
Our fiscal year begins the end of June. You can contribute at any time as an individual, family, or business. We are always seeking sponsors to help fund our Museum. Your contribution allows us to share local history and cultural experiences with people of all ages throughout our region.
Scouts Are So Important Here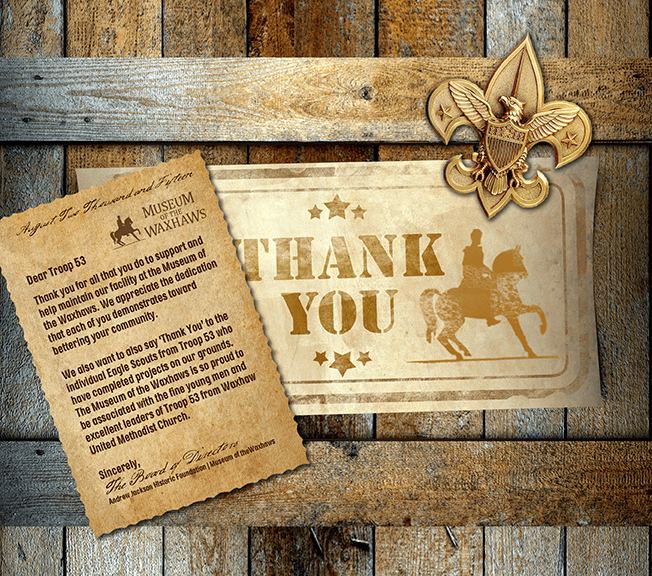 Our Sponsors are the Lifeline
2017/2018 Contributors
Joyce Blythe
Perry & Beth Blythe
Rita Brunson
Zane & Joan Eargle
Macon Griffin, Griffin Motor Company
Patricia G. McGee
Robert McCain
Sherry Robinson
William Simpson
Jack & Betty Shaw
Sammy Starnes, Circle S Ranch
Carlton Tyson
Mary Alice Wilson
We Love Our Volunteers
We have the best volunteers at the Museum of the Waxhaws. We are always looking for talented and hardworking volunteers to help us with our ever-changing and growing programs.
The more input we get from volunteers joining our team, the better we are at presenting history to our visitors. Interested in joining us as a volunteer?
Give us a call today or contact us HERE!